Celia and I experienced
Nuit D'Etoile
when we were in Paris (on my birthday even!) and I missed White Night here last year so decided to go in this year.
The main feature is the illumination on buildings and music everywhere and CROWDS.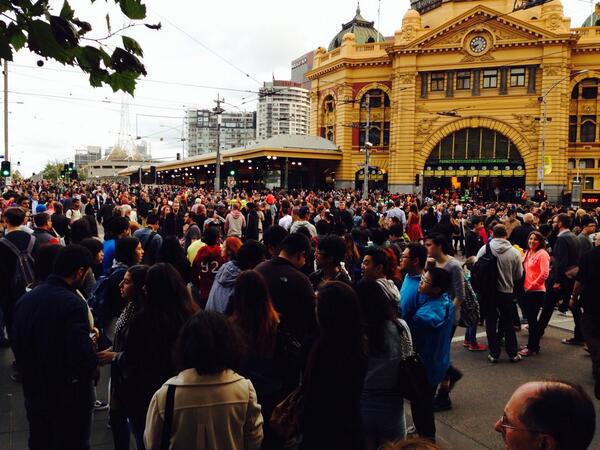 The sign on Princes' Bridge
The Footbridge arch lit up.
There was an announcement as I got off the train saying the 'crowded concourse' so take care. So I exited at the west end and walked over the footbridge over the river.
Later in the night trains were only departing the city from Flinders Street only. All City Loop stations were closed.
It was still light but the crowds were building already .
Pity anyone who had not heard of it, getting caught up on their planned theatre visit or similar
The stream was thick both directions.
The roads were closed to traffic on Swanston, Elizabeth and Flinders st (as well as the Lanes)






The Station was glorious and the intersection PACKED
The buildings along Flinders St from Fed square
The crowd at the busy areas was solid. It took me 10 minutes to cross the road from Fed Sq to the Station!
A Family were moving in opposite direction beside me and the Dad said "Maybe I'll catch you up" And mum said "I'll never see you again!"
A rescue boat driver left the Club saying he had to meet his friends at Fed Sq at 630; I hope he found them!!!
http://media.theage.com.au/news/national-news/white-night-preview-5182825.html
Last year the crowd was estimated at 300.000 with out as much adverting as this year, so perhaps 500.000.
I think the fact that it is spread over a bigger area this year would make the crowds better.
It was the crowds that decided my return home even though I hadn't seen half the things . I certainly didn't see the best but what I saw made for a magical evening!